Four companies dominate our daily lives unlike any other in human history: Amazon, Apple, Facebook, and Google. We love our nifty phones and just-a-click-away services, but these behemoths enjoy unfettered economic domination and hoard riches on a scale not seen since the monopolies of the gilded age. The only logical conclusion? We must bust up big tech.
Over the past decade, Amazon, Apple, Facebook, and Google—or, as I call them, "the Four"—have aggregated more economic value and influence than nearly any other commercial entity in history. Together, they have a market capitalization of $2.8 trillion (the GDP of France), a staggering 24 percent share of the S&P 500 Top 50, close to the value of every stock traded on the Nasdaq in 2001.
How big are they? Consider that Amazon, with a market cap of $591 billion, is worth more to the stock market than Walmart, Costco, T. J. Maxx, Target, Ross, Best Buy, Ulta, Kohl's, Nordstrom, Macy's, Bed Bath & Beyond, Saks/Lord & Taylor, Dillard's, JCPenney, and Sears combined.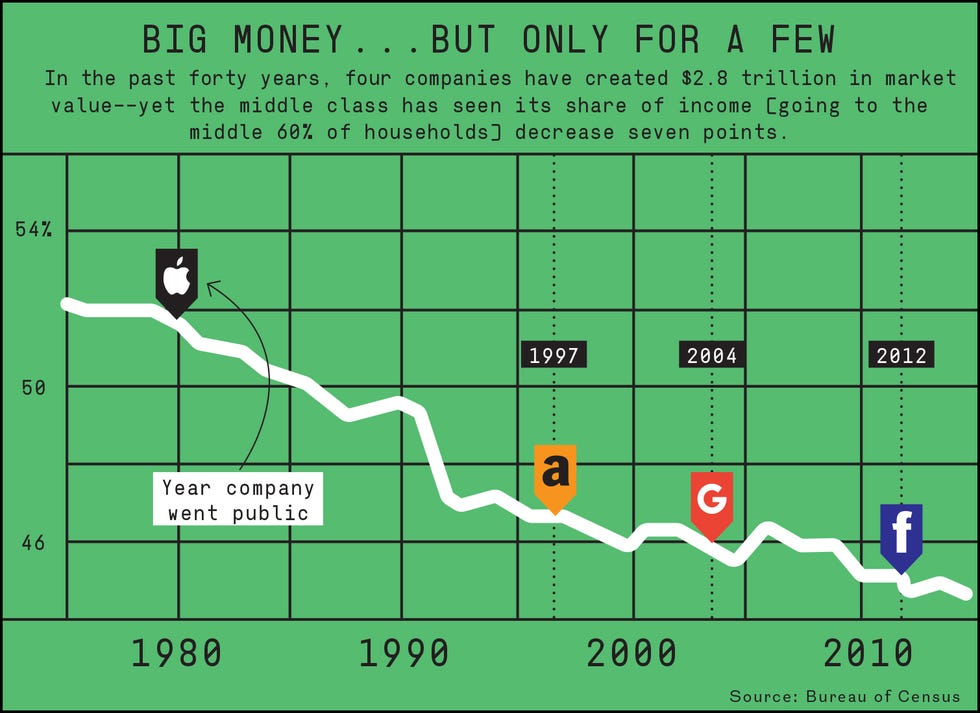 Meanwhile, Facebook and Google (now known as Alphabet) are together worth $1.3 trillion. You could merge the world's top five advertising agencies (WPP, Omnicom, Publicis, IPG, and Dentsu) with five major media companies (Disney, Time Warner, 21st Century Fox, CBS, and Viacom) and still need to add five major communications companies (AT&T, Verizon, Comcast, Charter, and Dish) to get only 90 percent of what Google and Facebook are worth together.
And what of Apple? With a market cap of nearly $900 billion, Apple is the most valuable public company. Even more remarkable is that the company registers profit margins of 32 percent, closer to luxury brands Hermès (35 percent) and Ferrari (29 percent) than peers in electronics. In 2016, Apple brought in $46 billion in profits, a haul larger than that of any other American company, including JPMorgan Chase, Johnson & Johnson, and Wells Fargo. What's more, Apple's profits were greater than the revenues of either Coca-Cola or Facebook. This quarter, it will clock nearly twice the profits that Amazon has produced in its history.
The Four's wealth and influence are staggering. How did we get here?
As I wrote in my book, The Four, the only way to build a company with the dominance and mass influence of Google, Amazon, Facebook, and Apple is to appeal to a core human organ that makes adoption of the platform instinctive.
GOOGLE: MIND-ALTERING
Our brains are sophisticated enough to ask very complex questions but not sophisticated enough to answer them. Since Homo sapiens emerged from caves, we've relied on prayer to address that gap: We lift our gaze to the heavens, send up a question, and wait for a response from a more intelligent being. "Will my kid be all right?" "Who might attack us?"
As Western nations become wealthier, organized religion plays a smaller role in our lives. But the void between questions and answers remains, creating an opportunity. As more and more people become alienated from traditional religion, we look to Google as our immediate, all-knowing oracle of answers from trivial to profound. Google is our modern-day god. Google appeals to the brain, offering knowledge to everyone, regardless of background or education level. If you have a smartphone or an Internet connection, your prayers will always be answered: "Will my kid be all right?" "Symptoms and treatment of croup. . ." "Who might attack us?" "Nations with active nuclear-weapons programs . . ."
Think back on every fear, every hope, every desire you've confessed to Google's search box and then ask yourself: Is there any entity you've trusted more with your secrets? Does anybody know you better than Google?
FACEBOOK: THE HEART OF THE MATTER
Facebook appeals to the heart. Feeling loved is the key to well-being. Studies of kids in Romanian orphanages who had stunted physical and mental development found that the delay was due not to poor nutrition, as suspected, but to lack of human affection. Yet one of the traits of our species is that we need to love nearly as much as we need to be loved. Susan Pinker, a developmental psychologist, studied the Italian island of Sardinia, where centenarians are six times as common as they are on mainland Italy and ten times as common as in North America. Pinker discovered that among genetic and lifestyle factors, the Sardinians' emphasis on close personal relationships and face-to-face interactions is the key to their super longevity. Other studies have also found that the deciding factor in longevity isn't genetics but lifestyle, especially the strength of our social bonds.
Facebook gives its 2.1 billion monthly active users tools to fuel our need to love others. It's satisfying to rediscover someone we went to high school with. It's good to know we can keep in touch with friends who move away. It takes minutes, with a "like" on a baby pic or a brief comment on a friend's heartfelt post, to reinforce friendships and family relationships that are important to us.
AMAZON: ALWAYS CONSUMING
What sight is to the eyes and sound is to the ears, the feeling of more, of insatiety, is to the gut. We crave more stuff psychologically just as the stomach craves more sugar, more carbs, after an indulgent meal. Originally this instinct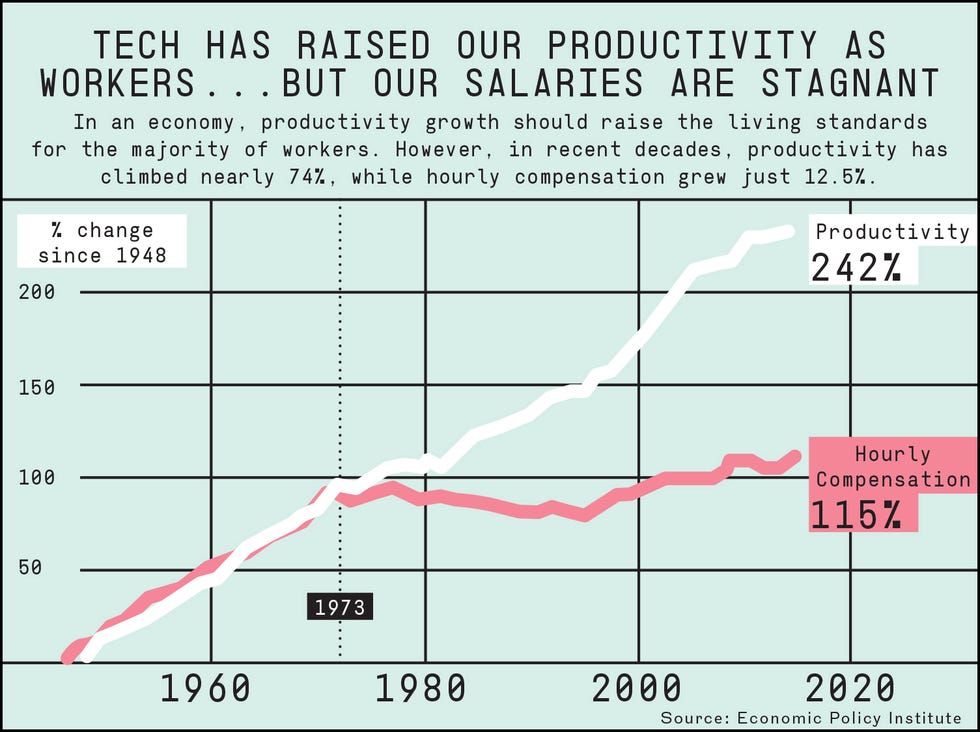 operated in the service of self-preservation: Having too little-meant starvation and certain death, whereas too much was rare, a bloat or a hangover. But open your closets or your cupboards right now, and you'll probably find you have ten to a hundred times as much as you need. Rationally, we know this makes no sense, but society and our higher brain haven't caught up to the instinct of always feeling like we need more.
Amazon is the large intestine of the consumptive self. It stores nutrients and distributes them to the cardiovascular system of the 64 percent of American households who are Prime members. It has adopted the best strategy in the history of business—"more for less"—and deployed it more effectively and efficiently than any other firm in history.
APPLE: SET TO VIBRATE
The second-most-powerful instinct after survival is procreation. As sexual creatures, we want to signal how elegant, smart, and creative we are. We want to signal power. Sex is irrational, luxury is irrational, and Apple learned very early on that it could appeal to our need to be desirable—and in turn increase its profit margins—by placing print ads in Vogue, having supermodels at product launches, and building physical stores as glass temples to the brand.
A Dell computer may be powerful and fast, but it doesn't indicate membership in the innovation class as a MacBook Air does. Likewise, the iPhone is something more than a phone or even a smartphone. Consumers aren't paying $1,000 for an iPhone X because they're passionate about facial recognition.
They're signaling they make a good living, appreciate the arts, and have disposable income. It's a sign to others: If you mate with me, your kids are more likely to survive than if you mate with someone carrying an Android phone. After all, iPhone users on average earn 40 percent more than Android users.
Mating with someone who is on the iOS platform is a shorter path to a better life. The brain, the heart, the large intestine, and the groin: By appealing to these four organs, the Four have entrenched their services, products, and operating systems deeply into our psyches. They've made us more discerning, more demanding consumers. And what's good for the consumer is good for society, right?
Well, yes and no. The Four have so much power over our lives that most of us would be rocked to the core if one or more of them were to disappear. Imagine not being able to have an iPhone, or having to use Yahoo or Bing for search, or losing years' worth of memories you've posted on Facebook. What if you could no longer order something with one click on the Amazon app and have it arrive tomorrow?
At the same time, we've handed over so much of our lives to a few Silicon Valley executives that we've started talking about the downsides of these firms. As the Four have become increasingly dominant, a murmur of concern—and even resentment—has begun to make itself heard. After years of hype, we've finally begun to consider the suggestion that the government, or someone, ought to put the brakes on.
Not all of the arguments are equally persuasive, but they're worth restating before we get to the real reason I believe we ought to break up big tech.
148 total views, 2 views today
As an avid political junkie and full-time writer, James Ledbetter worked for Blasting News for 3 years. During that time, James gained over 45,000 readers, reaching people from all over the world. His work has been promoted by thousands of writers and a few politicians. Since starting with Western Free Press in May of 2018, James has gained close to 100,000 new readers and is currently one of the top-ranked writers for the company. James writes thought-provoking political articles on a daily basis. Favorite quote: "If content is king, then research is queen." SEE MY FULL PROFILE