On many a occasion the alt left have embraced  Antifa.  They embrace their views and most of their tactics.  In the past I've been ridiculed in Progressive fake news stories cause I call them what they are.  The military wing of the alt left.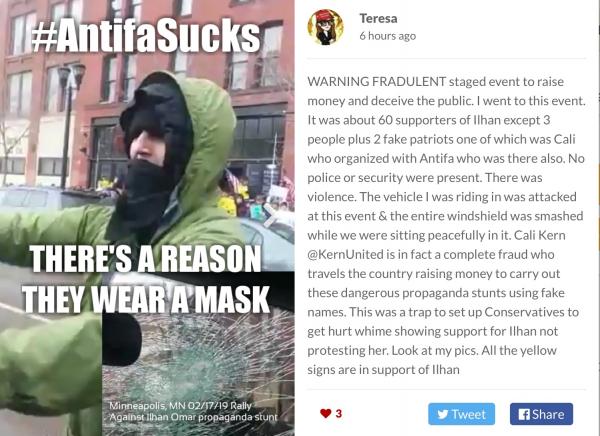 On February 17th there was to be a rally  to stand against Ilhan Omar, the  Minnesota congresswoman.  Something that any and all Conservatives could sink their teeth into.  Right?  Wrong, and it could have been violently wrong.  Here Antifa had planned this phony rally to be used as an ambush.  Here's the interesting part.  No media or police were therre.  Why was that?   Phillip Parrish felt something wasn't right.  Here's what he wrote.
"I have tried to contact the alleged organizer of this event several times. No success," Parrish wrote on a Facebook, on Feb. 10, while adding that it could be a "way to seduce people into an unsafe and threatening situation and/or trap people into a premeditated plot to cause a conflict whereby the perpetrators record and then play victim."
This from Megan Olsen and Alpha News.
"Teresa Blair attended and recorded her time at the event. She is active in Minnesota politics and said "No real patriots were here other than me & my people."  The video depicts Blair walking around the rally and simply talking to attendees, none of which she recognized. The organizer of the patriot event, "Cali Kern", was unable to give Parrish, as well as Blair any details about himself or the event. The opposition widely outnumbered that of the organizers, which Blair thought to be very concerning and said "stay home" many times in the video."
In closing, Ms. Blair and her friends were attacked.  Luckily they were in their car leaving.  What did Antifa hope to accomplish?  I guess we will never find out.  What say you?
source:
ANTIFA Creates Fake Anti-Ilhan Omar Rally in Mpls to Incite Violence
Antifa Thugs Stage Fake Rally Against Rep. Ilhan Omar to Ambush Conservatives
1,305 total views, 17 views today
  I have been writing on and off the past 46 years. First piece I ever wrote was my high school underground newspaper. A father of two twenty somethings.  Happily married and presently living in Ohio.