Yes they love him.  I know a  group of  Progressives couldn't believe their eyes or what they were hearing.  President Trump being cheered by African Americans.  And why not?  Record number of jobs for minorities and record low  unemployment.  Going from record number of social programs to jobs in two years is just amazing.  And he still has two more years ahead of him (some say six).
A few words from our President.
"Every citizen alive today and generations not yet born are forever in debt to the brave souls who stared down injustice and championed the eternal cause of civil rights," Trump said, before thanking his special guests at the event for their attendance.  "And by the way, as you've been hearing me say, African American unemployment is at an all-time low," Trump asserted. "In the history of our country, it's never been better."   So how does he top the first two years?   The president continued,
"Today we thank God for all of the blessings the African American community continues to give our nation and we pledge our resolve to continue to expand opportunity for Americans of every race, religion, color and creed."  Trump later returned to the low black unemployment rate, declaring, "Tell me, how do they beat us on the debate stand when we say we have the best unemployment numbers ever?"
In closing these final words from White House Correspondent Amber Athey.
"Several members of the audience cheered and waved their "Make America Great Again" hats when Trump mentioned the tax cut passed under his administration.  The president also introduced Catherine Toney, one of the special guests of the event who Trump said was the first woman released from prison under the First Step Act."
What say you my friend?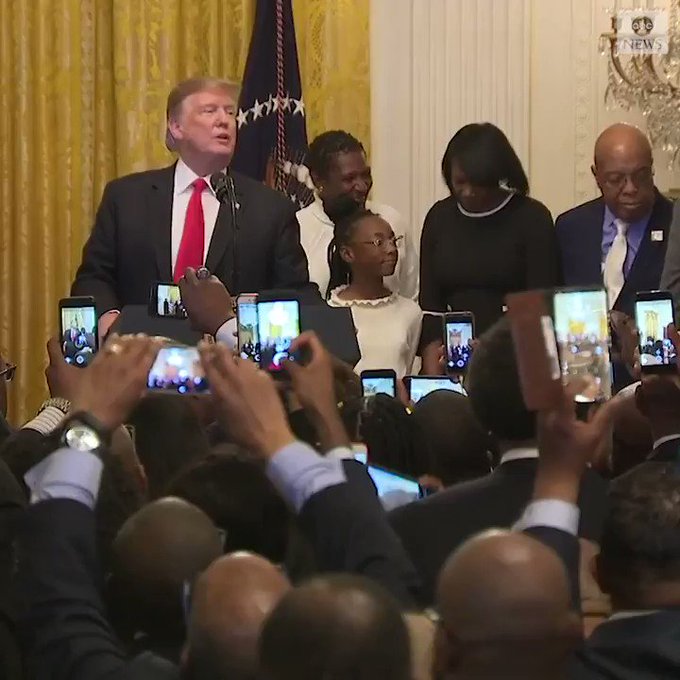 Source:
Additional Photos from ABC and USA Today
https://dailycaller.com/2019/02/21/trump-address-black-history-month/
https://www.usatoday.com/story/news/politics/2019/02/21/donald-trump-touts-economy-black-history-month-event/2937985002/
417 total views, 9 views today
  I have been writing on and off the past 46 years. First piece I ever wrote was my high school underground newspaper. A father of two twenty somethings.  Happily married and presently living in Ohio.